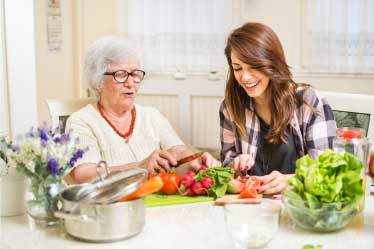 The term Group Homes is commonly used nationwide and has many definitions & connotations. Group Homes are known as Board and Care Homes, Residential Care Homes, Care Homes, Homes for Mentally Challenged. Other uses of the term "Group Homes" include, Shared Living Arrangements, Supportive Living Arrangements (SLA) and Community Based Living Arrangements (CBLA). Unfortunately, Shared Living Arrangements, Supportive Living Arrangements and Community Based Living Arrangements have widely varying rules and limited regulations which make it next to impossible for a consumer to make an informed choice when deciding on the most appropriate setting for a loved one. Read below to learn more on the differences between licensed and unlicensed homes
Group Homes are typically distinguished from Assisted Living facilities by their smaller size. In the state of Nevada, a Group Home or Adult Group Care Home is typically is licensed to provide some type of assistance and or supervision to its residents, usually in a in a single-family home, allowing a senior, disabled person, etc. to remain in the community instead of being institutionalize or placed in a larger Assisted Living Facility. This is especially beneficial for seniors who have spent their lives working and living in small communities and may need assistance as they get older or become disabled and who choose to remain in the same residential communities as their non-disabled counterparts instead of going to a nursing home to get the assistance they need. Residential Facilities for Groups (RFFG's) are fully licensed group homes that are overseen by the state (BHCQC) and have many rules and regulations in place to keep all residents safe and protected under chapter 449 in the Nevada Revised Statutes (NRS). RFFG's are required to be licensed and have annual unannounced surveys and visits from the state ombudsman. In addition, they are required to have fire sprinklers, liability insurance, oversite from a licensed, Beltca Administrator, required staffing requisites, staff training including medication Management and many other regulations. These regulations go a long way to maintaining a healthy minimum standard of care and protections for its residents
Unlicensed and Under Regulated Care
There are some types of homes in the community that consumers confuse as Licensed Care Homes but are actually Transitional Living or Supportive Living Arrangements (SLAs). These may be homes for troubled youth, recovering addicts, convicted felons to name a few. These homes are designed to assist its residents' transition back into the community and eventually be reintegrated in to the community as productive citizens. The time frame an individual with a mental or physical disability can be "transitioning" is not defined and can be years maybe never fully transitioning back into the community.
The state spends a great deal of money to fund these homes and programs but do not require them to operate under the higher standards and regulations of Residential Facilities for Groups (RFFG's). These residents are living in a setting with far fewer regulations and protections for the community which could lead to negative outcomes. For example, they are not required to have residential fire sprinklers, hold liability insurance or adherer to annual inspections by the BHCQC or visits from the state ombudsman. These homes are only required to be "certified" and in most cases are self-monitored by the corporations that own them with some vague oversite by the Regional Centers.
The state DOES NOT fund RFFG's, that take care of seniors and those with disabilities and Dementia at the same level and requires much less over site. This scale seems to be greatly unbalanced and a questionable use of tax payers dollars.
When considering a Group Home, it is important to verify the home is in fact a Licensed Group Home to ensure your loved one will receive the highest minimum standards of care possible. All RFFG's have their annual surveys and grade posted on the Bureau of Health Care Quality and Compliances' (BHCQC) website, along with any deficiencies s that may have been sited.
Groups Homes are a very cost effective, community based, senior care alternative. Due to their small, personal, home like setting they are an ideal choice for those with memory loss, cognitive impairment and Dementia. Many states, including Nevada, have added regulations for Memory Care or a Dementia Endorsed Residential Care Home which include added training in dementia, and required staffing ratios which are essential elements to meet the complex needs of a patient with Alzheimer's disease.
Senior Care and Long-Term Care Services vary widely and it is up to each family to do their homework, meet the owners, day to day managers, and as many of the individual caregivers they can. You need to know WHO you are getting before you can estimate the relative value at any price point.