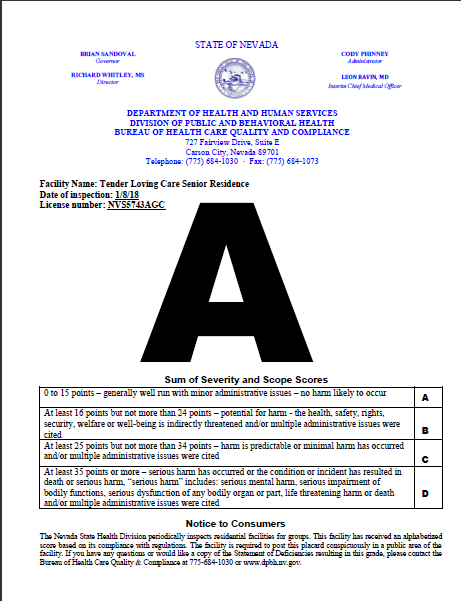 Since Tender Loving Care Senior Residence (TLCSR) opened in 2009, TLCSR has achieved an "A "rating on every annual state inspection, which is the highest grade possible. TLCSR is proud to repeatedly adhere to regulations & achieve the highest grade in a state that has one of the nation's highest regulatory standards for Group Homes or
Assisted Living
Facilities, Nevada. As Nevadans, we are proud that a ProPublica study that investigated regulations for Assisted Livings & Group Homes in all 50 states revealed Nevada and Missouri to have the most robust regulations and protections in place. Nevada meets the minimum standard regulations in each of the 5 areas investigated in the study. Nevada goes beyond the minimum standards and was one of the first states to require sprinklers in 1998. They also require a BELTCA, Licensed Residential Facility Administrator, liability insurance and much more that other states do not require.
State of Nevada TLCSR Grade A certificate
projects.propublica.org/tables/assisted-living-regulations#data-explainer
Ongoing Advocacy & Education
Dr Shawn and Nurse Kerry have a long history of community advocacy and continue to help the community and seniors by supporting changes to improve the standards and quality of care across the board for all Nevadans.
They have been active in the Licensed Long-term care community defending the rights of the disabled, seniors and those with Alzheimer's by actively educating other professionals, legislators and the community on Nevada's Olmstead compliant system for cost effective, high quality, community-based care which the government continues to strive for.
They continue to be diligent senior advocates and are working every day to preserve the safe, high quality, cost effective choice of Residential Care Homes before its lost to the forces of big business which will ultimately reduce choices for seniors in the name "Corporate profits" over "Community " small businesses.
TLCSR & Dr McGivney sponsored the first, 501 C6 nonprofit, trade group for the Residential Care Home industry in Nevada and is also a founding member of the newest, nonprofit, 501 C 6 group, "Nevada Assisted Living Association" (NALA), that represent all RFFG's including both licensed Assisted Living Facilities and Residential Care Homes.
Dr Mcgivney continues to be actively involved, providing leadership roles and is a frequent presenter at legislative hearings & events. In addition, Dr McGivney is a leader in the "Assisted Living Advisory Council" (ALAC) which is a state-wide group that includes leaders from Assisted Living, Memory Care, Residential Care Home and Dementia Care Homes joining to advocate for the rights of seniors to have fair, free market of senior care choices with a common set of regulations that seniors and their families can rely upon.
Past Advocacy & Education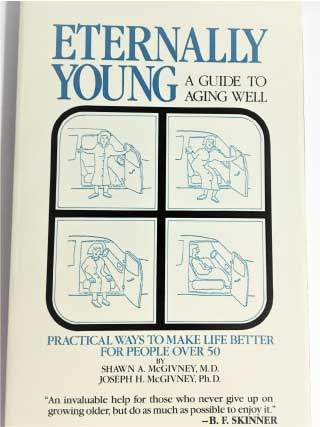 Dr McGivney's passion to help the community and seniors started early in his career and inspired him to write his first book "
Eternally Young a Guide to Aging well
". Dr McGivney was humbled & honored when his work was acknowledged and praised not only by his peers, but well know leaders in the medical world.
B. F Skinner
, famous Psychologist & Behaviorist, who developed the Skinner Box, and Edgar Pierce, Professor of Psychology at Harvard University, credited for inventing Cognitive Behavioral Therapy (CBT), operant conditioning, praised the book as "
an invaluable
help to those who never give up on growing older but do as much as possible to enjoy it".
Another positive review was from the first Director of "The National Institutes of Aging ",
Dr. Robert Neil Butler
, esteemed Psychiatrist & Gerontologist who acknowledged Dr McGivney's book as;
"clear and practical".
Dr Butler was responsible for establishing first of its kind "Department of Geriatrics" in a United States Medical School at the "Mount Sinai Medical Center" in NYC. Dr McGivney was honored to be selected by Dr Butler to serve as one of his fellows and work with him on his fellowship team.
Future Advocacy & Education
Dr. Robert Neil Butlers, Pulitzer prized book Why survive? Being old in America continued to impact Dr McGivney and help inspire him to develop ways and systems to benefit seniors as they age and adapt to disabilities. Inspiration also has also come from the work of Dr, William Thomas in his charitable works with the Eden Alternative and the Green House projects. While the Eden Alternative and the Green House Project were great steppingstones with many great components, they seemed to be unsustainable financially. Dr McGivney believes he has developed the next chapter in these care models providing a practical, cost effective & financially self-sustaining model of care that allows resources to be used more efficiently than the past research and charitable works that have inspired him. Dr McGivney believes that we no longer have to worry about the Age Wave, written by another well-known senior advocate, Ken Dychtwald.
The Tender Loving Care Senior Residence (TLCSR) model utilizes the training and experience of a Geriatrician who has a very unique set of skills, insight and medical knowledge specific to aging and the treatment of disabilities and all chronic diseases. Through broad geriatrics education combined with a small, family-like, community setting that allows a higher level of coordination, communication and continuity of all aspects of care including BOTH medical care AND non-medical custodial care Dr McGivney has achieved the first affordable, franchise supported, system to impact the global senior care crisis. This web site helps illustrate the many moving parts that are required to come together to achieve this goal.