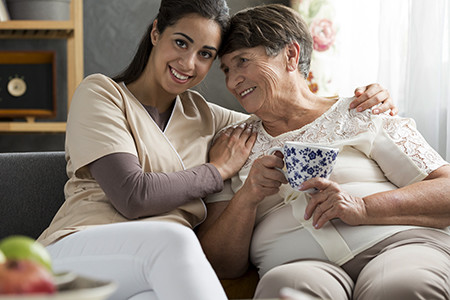 Tender Loving Care Senior Residence (TLCSR) has a different philosophy on staffing and training than many other senior care settings, like one to one in-home care (PCA agencies), Assisted Living, Memory Care or Alzheimer's units. First off, we understand that Senior Care is a service and as such, it is next to impossible to deliver a high-quality product if you don't have enough people to do the job. While reducing staff can save owners in staffing expenses, quality & team moral suffer greatly. In addition to having enough staff we believe the staff need to be supported, educated, & supervised on an ongoing basis to ensure the system is working effectively.
The owners of TLCSR are committed to providing all the elements required to deliver the best care. The policies and behaviors of owners & management set the tone for the entire team.
TLCSR has 2-3 caregivers for only 10 residents. This is a very high staff ratio compared to any other Senior Care Setting (see …choosing the right care setting). Having a high staff ratio allows for flexibility and back up, if and when a caregiver gets sick or requests a day off. Having additional staff who are already familiar with all of the resident's care needs and knows their likes and dislikes makes it easier for both the staff and residents reducing hiccups or changes to the resident's routine. Likewise, TLCSR provides consistency, back up and oversite from its owners and management, Kerry & Shawn who are involved in the day to day operations and are also familiar with the needs and routines of each resident.
Moreover, we provide an awake caregiver at night, along with many levels of back up. The overnight back up system includes; additional live in staff who are available to assist the awake night caregiver if needed, direct access to Kerry & Shawn anytime day or night, several monitoring devices: video monitoring, motion sensors and other alarms all of which improve continuity and quality of care, as well as, staff response time.
Another difference between TLCSR and other senior care options is the high level of involvement Kerry and Shawn (owners/ managers) have on a daily basis, with their staff. We encourage & expect our staff to communicate with us regularly and inform us of any changes in the residents' condition, big or small. Shawn & Kerry speak with their staff several times a day by phone and or in person when making rounds. They make themselves available to answer questions and assist when issues or emergencies arise. This level of involvement and interaction helps the staff feel supported, nurtures relationships and promotes continuity and quality of care.
TLCSR believes, it is important to keep staff turnover low. The high level of support, communication and direct involvement the owners and management provide to their staff helps TLCSR reduce staff turnover. Working in environment where you feel supported and valued, as an important member of the team, improves job satisfaction and keeps staff, residents and families feeling happy and secure.
TLCSR goes above and beyond the minimum, state required training. Our staff not only receive initial and annual training in Caregiving, Dementia, Mental Illness, and Medication Management they receive ongoing, on the job training from the MD & RN on various senior health related topics. All of our staff are cross trained in every area, unlike other senior care settings that only have caregivers OR Med techs. Cross training expands the knowledge of all caregivers and promotes team work. TLCSR's staff, not only assist with personal care, like showers, they administer medications, prepare the meals, do housekeeping, laundry, lead activities and the daily exercise program. Each staff member is rotated through all the assignments and learns the routines of each resident and the facility. Once again improving continuity and quality of care and the shared sense of purpose and responsibility.
The State of Nevada requires 8 hrs. of initial and 8hrs annual caregiving training. While there are general guidelines, the training varies from facility to facility, on WHAT content is included and WHO is providing the training. At TLSR, caregiving training is ongoing and far exceeds the state minimum requirement of 8hrs. Their geriatric trained MD & RN seek out opportunities for advanced training while on site and through daily communications and provide demonstrations increasing knowledge and improving overall caregiver skills. Staff feel supported and reassured they can contact the MD or RN at any time to answer questions or get direction. At TLCSR, the training includes, but is not limited to, education on how to assist residents with a variety of Activities of Daily Living (ADL's): bathing, dressing, grooming, feeding, toileting, transferring & walking including contact guarding. They also receive training in Instrumental Activities of Daily Living (IADLS) for example, meal preparing, housekeeping and laundry. In addition, they receive annual training on Elder Abuse, which is required by the state of Nevada.
Dementia & Alzheimer's Training
The State of Nevada requires 8 hrs. of initial and 8hrs annual Dementia training. While there are general guidelines, the training varies from facility to facility, on WHAT content is included and WHO is providing the training. At TLSR, the staff receive far more than the state minimum of 8 hr.'s. TLCSR's geriatric trained MD & RN provide ongoing training and education on Dementia, Alzheimer's, Depression & Mental Illness and various approaches to treatment of these chronic illnesses such as behavioral therapy and medications. Because Shawn, the MD & Kerry, the RN are so readily available and are so actively involved in the day to day care each resident receives, the staff benefit enormously and gain knowledge and experiences they would otherwise miss out on. Staff are exposed on a regular basis to many different scenarios and types of behavior issues and learn first-hand from the MD & RN appropriate strategies and methods to manage those behaviors, whether through redirection, cuing, providing busy activities or use of PRN medications if indicated. At TLCSR the training and expectations go above and beyond and improve outcomes and quality of care for residents and their families.
It is a Nevada state requirement, that every person who administers medications in an Assisted Living or Residential Care Home complete an initial 16hr training course and 8 hr. annual training from a state approved trainer and pass the state exam. Additionally, each facility is required to develop their own policies and procedures and training program.
TLCSR has a well-developed medication training program and policies & procedures. TLCSR understands the importance of medication administration and the various elements of that process that need to be considered and followed. Medication Management not only consists of administering the medication but being knowledgeable about the purpose, desired effect and potential side effects of those medications, as well as, communicating pertinent information with the residents' doctor in a timely manner. Many of us have experienced difficulties in contacting doctors to get information or refills on medications or to ask questions. Fortunately, because TLCSR is operated by a MD & RN, who are in daily communication with their staff, this aspect of Medication Management is easily achieved, and errors and complications are greatly reduced.
Medication Management also requires refilling medications, obtaining the medications, counting the medications and recording or documenting these steps appropriately. Once again, TLCSR is in a good position to ensure these steps of the process are achieved and adds multiple layers of training and education for staff because the staff have easy access and frequent conversations with the Doctor and his RN which expands knowledge and understanding and improves continuity and quality of care.
Fortunately, with the help of senior advocacy groups like NALA, pushing for & educating the Nevada State Legislature on the need for changes to regulations, the scope of what caregivers can be taught to do will be expanded that includes teaching caregivers to report important information to the residents' doctor.
Nevada legislature has recently passed legislation, removing previous restrictions on community based senior care settings, like Assisted Livings and Residential Care Homes that restricted caregivers from being able to be taught, by a medical professional, how to check a blood pressure, take a temperature, administer insulin with an auto injection pen. These restrictions greatly limit the care that residents could receive in these settings, impeding continuity of care by limiting the amount and type of data a caregiver can gather and then report to the doctor. Because doctors are not able to get simple information about a patient's current status like temperature or blood pressure from caregivers, doctors are often forced to send patients, unnecessarily to the ER. These changes will improve care, safety and choices in senor care for Nevadans, and help keep Nevada ranked as the best in the nation for regulation and monitoring.
The high-quality staffing that TLCSR provides is a result of the strong leadership, ongoing education, high level of communication and support of the entire care team which translates to a high level of satisfaction not only for the staff but for the residents and their families as well.