Interesting article that discusses a possible doctor shortage. They note that even if everyone gets insurance coverage that raises questions about how the new insurance programs might affect doctors, seniors and the care settings that rely on doctors including Residential Care Homes and Assisted Living Facilities.
The article points out that offering insurance that does not pay the doctor adequately might give access to more people and not encourage more doctors to participate in medicine, to go into medicine or to accept Medicaid even if it is offered.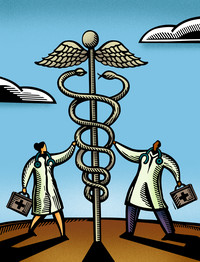 This is not a new issue. While Medicaid pays 100% in most cases it pays 100% of 7-10 dollars or 7-10 dollars for a visit. That is for a doctor's office visit. If you negotiate special rates like a hospital or the doctors in California the fee schedule might be more but in all cases the fees are less than it costs to provide the services unless there are other subsidies. Hospitals get paid other ways and offer Medicaid covered patients care in their clinics. I think of that as a lost leader but most doctors can't do that so I see some truth in this article. We need to ask how will expanding coverage increase the demand for doctor's care and how will those services be divided or re apportioned. Will Residential Care Homes and Assisted Living Facilities or other long term care settings be negatively affected? Might doctors choose to care for younger healthy Medicaid patients with fewer needs if the same fee schedule is used for a doctor's visit? If so would fewer doctors opt to see the complex, sick, older patients?
I recall recently hearing that Medicaid pays for visiting nurse services just like Medicare does. However, the compensation is so much less than Medicare pays that I could not find any visiting nurse companies that accepted what the covered Medicaid fee was for a visiting nurse visit. While it was "covered" it was not available. Has anyone experienced that or something similar?
Let's start the discussion.
While Residential Care Homes and Assisted Living care settings are generally private pay and therefore won't be directly affected from that aspect they will be affected in how difficult it is to get your doctor, see your doctor and not only seeing his assistant, and for the facilities to get the paper work they need. Indeed, already the required electronic prescriptions cause issues for the Assisted Living and Residential Care homes who need the hard copy prescription for their files and often do not get it.
Time will tell how this plays out. Let's all help each other to learn and interact with these changes.
Share your experience and comments here.
Check out these fantastic Residential Care alternatives to the Assisted Living and Home Care. Compare Family -Style care of a Residential Care Home to Home Care and Assisted Living Facilities which are more institutional care models.
Residential care, Assisted Living, and Home Care all offer custodial care but what varies is the care team you choose when you choose any care setting. Who is doing the day to day training, supervision, and support of a hands-on management and who is doing the custodial care? Look for the care team to get the best Assisted Living, Residential Care, Home Care, Retirement Community, Hospice Care, Dementia Care, Alzheimer's Care and Memory Care in any care setting. Look beyond the setting label and find out who you are getting before you buy.
Educational video links
TLCSRLV youtube Channel. Subscribe for free.
Assisted Living and Residential Care Home Video Tour.
Assisted Living and Residential Care Home Testimonial

THANKS FOR LIKING AND SHARING
Dr Shawn McGivney