Senior citizens demand extra assistance and care. Assisted living services have trained staff members that provide handy assistance with routine activities such as bathing and eating and also take care of other needs of seniors admitted to such facilities. Though, it may come across as a tough decision to usher your dear ones to assisted living facilities, if selected appropriately and after conducting a proper research, it can be the best possible option available for elderly suffering from Alzheimer's, Dementia, or if they require assistance in daily tasks.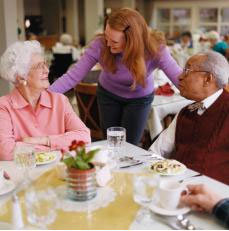 Assisted living offers numerous benefits for senior citizens because staying in an assisted living facility lets them relish their freedom. In contrast to nursing homes, assisted living facility is perfect for senior citizens who need minimal assistance with day-to-day activities. Some other advantages of an assisted facility are mentioned below –
Medical Assistance
Elderly are likely to get right medical attention in an emergency situation with assisted living services as the staff members and doctors in an assisted living facility offer due medical and health care besides personal care. Such facilities also employ medical professionals certified by a number of hospitals.
Privacy and Independence
Senior citizens also avail privacy and peace of mind with assisted living facilities due to limited number of residents. The smaller community will help elderly to inculcate solidarity with fellow residents quite easily. Such facilities also ensure comfort of home due to a traditional homes set-up.
Keeping these benefits under consideration, you must seek out assisted living facility that is equipped with the professionals possessing experience. In addition to this, you may get recommendations from your acquaintances who have procured the services of such facilities. Furthermore, you may also pore over the testimonials and reviews available on the site. Such reviews encourage an informed decision–making.