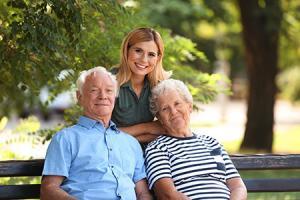 I am grateful to have had personal experience being a caregiver to both my mother and father when they became ill and needed supportive care. These experiences gave me a deeper understanding of the joys and frustrations of being a family caregiver. An understanding that helps in me in my daily interactions and communications with the family caregivers of residents at TLCSR, giving the support and reassurance they need. Even though I have had many meaningful personal experiences throughout my life and nursing career, the knowledge and understanding I gained from being a direct family caregiver to both of my parents has deepened my understanding and desire to help other families who are faced with similar challenges.
It's hard to find the words to adequately describe the love and respect I have for my mom, Margaret, and the extremely close relationship we shared. My mother was always my biggest supporter & best friend. We spent a great deal of time together. Margaret was extremely independent and active in her community. Volunteering in her church and throughout her community. She was always lending a hand and helping her neighbors. I learned from her at a young age the importance of compassion & community.
After my mother suffered a massive stroke that affected her cognition & speech, I became a family caregiver. I took time off from work so I could be with my mom full time and help my brothers with her care while she went through the rehabilitation process. I was their every step of the way helping her through her rehab and providing the physical care and emotional support she needed. Eventually, I had to go back to work. My brothers and I had to come together to provide the care & supervision our mother needed. I experienced firsthand the frequent wakening's at night, the difficulty in understanding her speech and communicating with her, her lack of ability to understand or remember things I had just discussed with her.
While it was challenging and frustrating at times for me, my real concern and worry came from seeing her struggle to adjust and understand her new limitations. My brothers and I were fortunate to have each other which enabled us to keep our mom at home. We were able to adjust our schedules and provide the necessary care. This experience helped me understand the challenges that other families, who don't have the medical expertise and support system that I had, face. It helped me become more aware of the limited choices that exist for senior care.
This experience with my mom fueled my passion and desire to provide a small, warm, family setting where residents and families can both feel supported. A setting like Tender Loving Care Senior Residence (TLCSR).
While most of my family had moved from NYC to Las Vegas, my dad, Joseph or Jay as he liked to be called, wanted to stay. He had lived alone for many years in NYC and was extremely active & independent. My dad seemed to manage pretty well initially, and like many children, because I was not there, I was unable to see the subtle e changes that were happening over time. Eventually, my dad a few significant "accidents". A fall outside which caused him to be hospitalized. I traveled to NYC to help him recover after his discharge from the hospital. Being with him day in and day out, I noticed his difficulty remembering things, taking his pills, managing his finances etc. My brother & I tried to convince him at that time to come to live with us in Las Vegas, but he vehemently refused. My dad, a retired attorney and professor, would say that he was "fine" and he could still live alone even though the evidence was said otherwise. He could not see his own limitations and need for help. In about a months' time, my Dad had another bad accident, this time a car accident. He was hospitalized again but this time the hospital said he could no longer live alone. After a lot of prodding and because he had limited choices, we finally convinced him to come to Vegas.
When my dad moved in with us, I was fortunate to have a strong support system. My brother and his wife, my husband and myself. I was lucky to able to adjust my work schedule, and even bring my dad to work with me at TLCSR. I was able to spend a lot of time with him & see the extent of his Dementia. He was forgetful, confused and lacked insight and judgment. Initially, he wanted to go home, back to NYC. Surprisingly, he was able to book a flight and use his credit card to pay for a ticket, but he had no recollection that he had done it. He would often come into my room in the middle of the night thinking he had to go to work or go to church. I would try to redirect him but was not always successful. I would help him take his medications, then he would forget and become agitated with me saying I did not give him his meds. I tried to engage him in activities he liked; watching and following the news & politics, watching his favorite sports teams, playing his piano and singing karaoke, but these became harder for him to enjoy because his agitation and paranoia would distract him from being able to participate in these activities.
After discussion with his Doctor and my brother, we decided to add a low dose antipsychotic to his treatment plan. It made a world of difference. My dad was able to sit and enjoy activities with me again and enjoyed going go out into the community again. He would play the piano and I would sing our old songs just like we used to. He once again enjoyed going out to the buffet.
As an experienced geriatric nurse, I have seen and experienced a wide array of behaviors associated with Dementia & Alzheimer's, some that are easily treated with behavioral therapy and many that require the use of both behavioral therapy and treatment with anti- psychotic medications. Of course, there are pros and cons and risks and benefits with most treatments and interventions. The experience with my own father, reinforced for me the benefits of combining behavioral therapy and antipsychotic medications when indicated. Of course, it should be done with oversite and close monitoring to ensure the patient is receiving the desired effect.
The experiences I have had as a family caregiver to both my parents, had a profound impact and gave me an understanding and compassion not only for patients who are challenged with coping and adjusting to their limitations, but also the family who faces many challenges, struggles and frustrations trying to ensure their loved one is receiving the best care.
I carry these experiences with me as I care for & support my residents and their families at Tender Loving Care Senior Residence. TLCSR not only cares for the residents but helps the family so they can feel supported and so they can continue to provide the love & support to their loved one without the pressure & frustration.